Introducing the Webacy Plugin - Memento Mori and Motivational Tool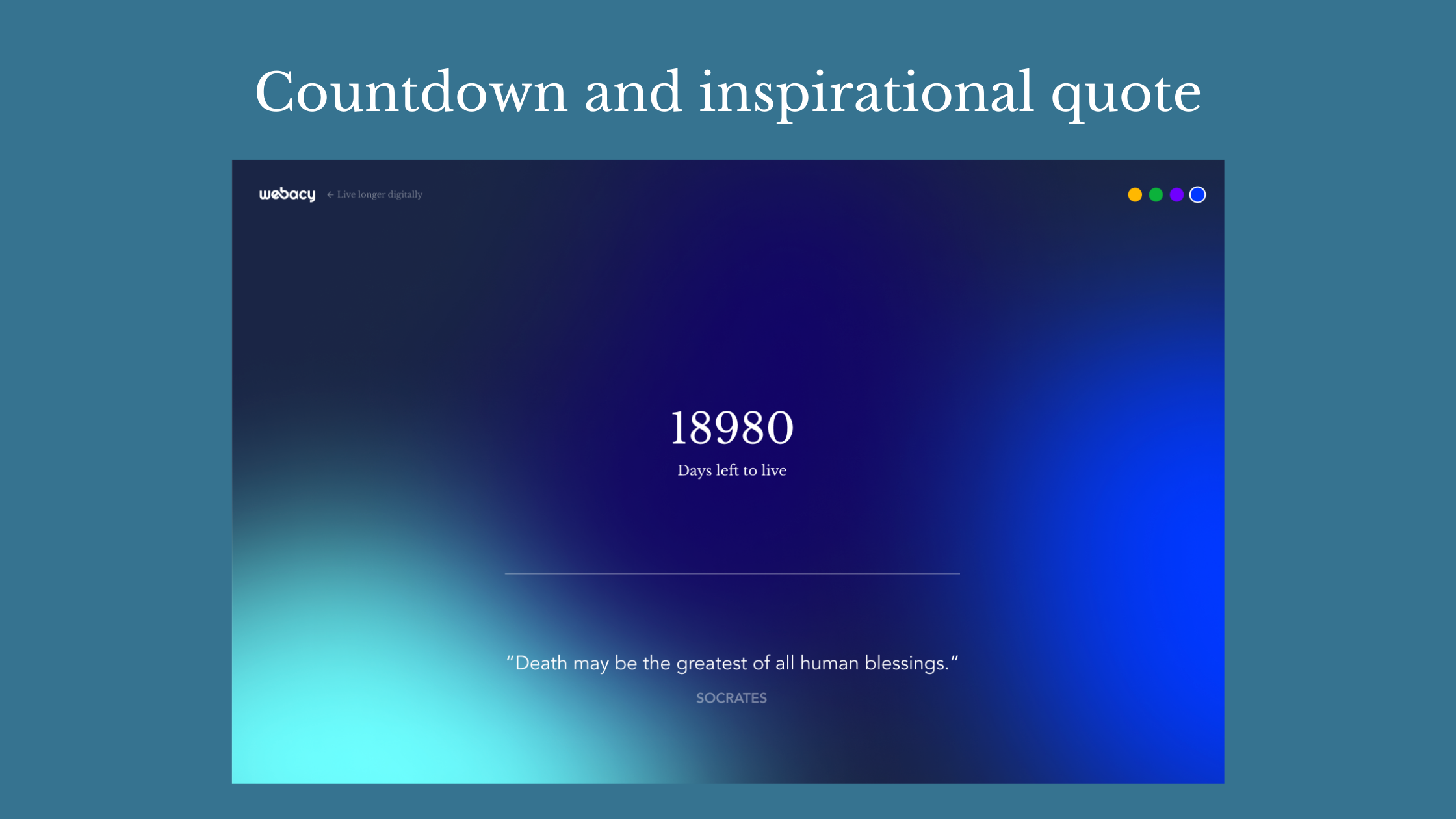 Earlier this week, we announced Webacy's soft-launch. We are beyond excited for Webacy to be out in the world, and wanted to introduce a companion product that highlights the philosophy behind our company: the Webacy Life Counter and Motivational Quote Productivity Browser Plugin!

'Memento mori' is Latin for 'Remember that you [have to] die.' It's often considered a symbolic trope that acts as a reminder of the inevitability of death. As morbid as it may seem, the concept has roots in antiquity, captivating philosophical thinkers of old Christianity, Judaism, and medieval periods. Lately, there's been a resurgence of this concept as a meditative and motivational tool.

Applications in Life

Every few months, a popular article or podcast is released on this topic. Some of our recent favorites include a podcast on how we spend our time from Life Kit, and an episode from Making Sense with Sam Harris on the Paradox of Death.

Some people choose to have a physical memento mori. From coins to calendars that allow you to bubble in each passing week, there is no shortage of options to include this concept in your daily life.

Art is yet another realm where memento mori leaves its mark. Creators in every generation have been inspired by our mortality. Motifs of skulls, hourglasses, and clocks reside in the collections of masters like Vincent van Gogh. Musicians incorporate topics of life and loss, underlying some of the most powerful songs of our lifetimes. Writers, performers, and visual artists of all kinds are inspired by this topic, and so are we. That's why Webacy will be incorporating art and visual allusions to life's fragility in our Instagram page and public content.

The Plugin

The Webacy Plugin incorporates these concepts into a subtle, sleek Chrome extension. The Webacy Plugin replaces your default home screen each time you open a new tab in your browser. On it, the number of days you have left is displayed (unique to you - you enter your birthday and desired length of a 'life well lived,' upon setup).

To many, seeing your life distilled to a number on a screen is jarring. The first time you see that number, you may be shocked by the count. The value comes from accepting this inevitable, and deciding how you want to spend those days. Confronting our mortality is an incredible challenge - but when done well, can push us towards living the lives we want to live.

The Plugin also allows you to change the background color to your liking, and displays a motivational quote on the bottom of the page.

We hope you give it a try, and share it with others.
Get the Webacy Plugin here.
A Few Numbers For You

If you're feeling hesitant, allow us to share some numbers with you.
The average human has about 4000 weeks to live.
The average human lives around 26,000 days, give or take.
We spend about 41% of our lives staring at some screen (your phone, laptop, and TV).

Yup.

Checkout the Webacy Plugin here.

//

p.s. shout out to our very talented designer - you can find her work https://norakako.com/