Webacy Ultra: Elevated Web3 Security for Those With Lots to Protect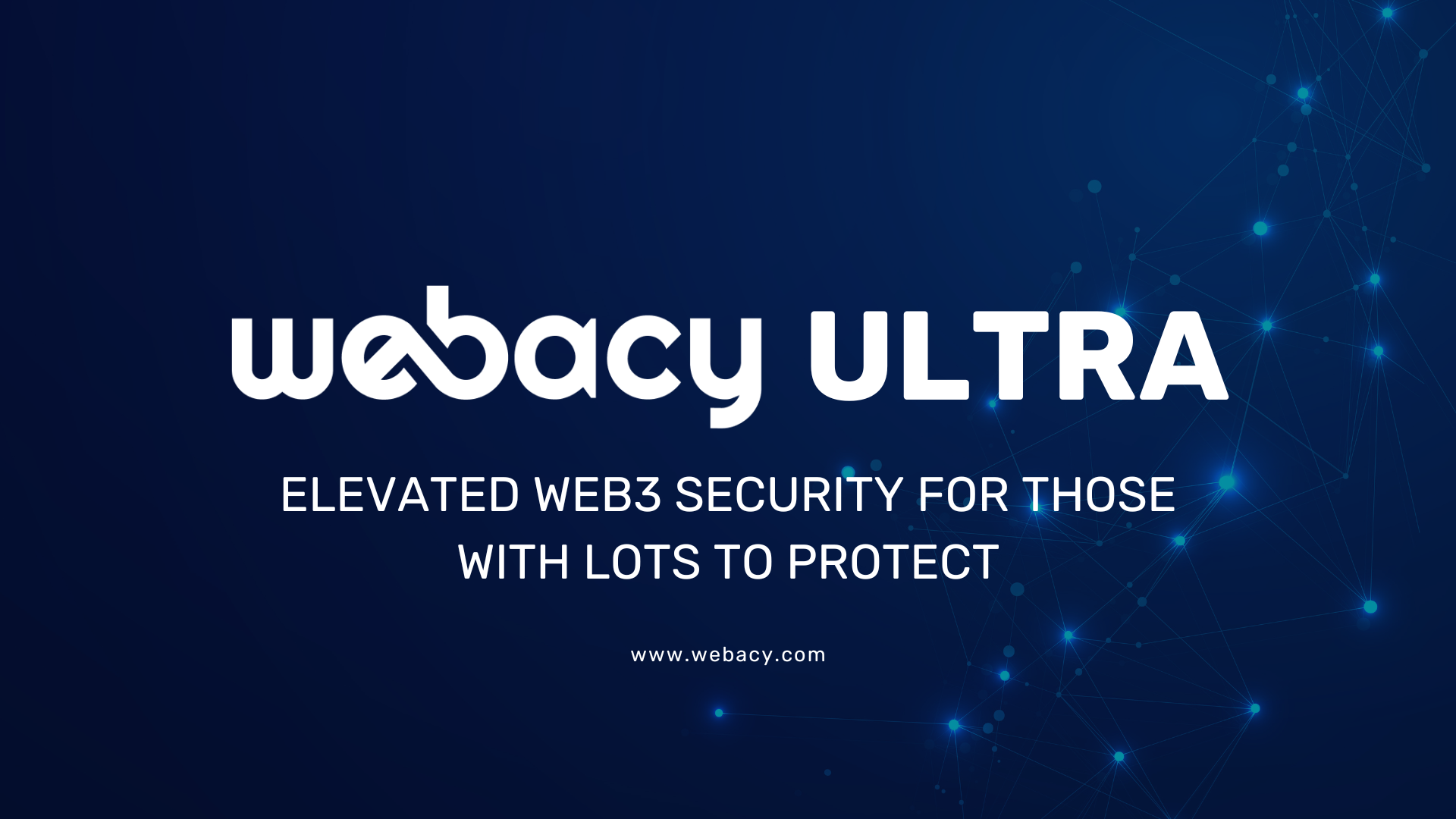 In the fast-evolving world of Web3, where cryptocurrencies and blockchain technologies are redefining the way we interact with the digital realm, security is a necessity. For high net worth individuals navigating this dynamic landscape, the stakes are higher than ever. That's where Webacy Ultra comes into play, offering an exclusive suite of features and services, along with a white glove approach for those who demand the best to secure their digital assets.
Webacy Ultra: An Overview
Webacy Ultra is our highest tier subscription product at $3,000 per year. Year round, 24/7 white glove service, custom support during intrusions, escheatment protection, and estate support with a decentralized crypto estate transfer plan are just a few of the key support items we've taken into consideration while building out our ultra-premium tier. With a wide range of features and services, Webacy Ultra is the comprehensive solution to safeguard your digital assets and investments for now, and for the future.
Unveiling the Features
Webacy Ultra offers an array of tools and services to ensure you're always in control of your Web3 assets. Here's a closer look at what you'll get with this elite subscription:
1. All of Webacy's Safety Tools: Webacy is renowned for its top-notch security solutions. With Webacy Ultra, you'll immediately have access to all the safety tools in Webacy Pro, ensuring your digital assets remain shielded from potential threats at the most basic level. This includes Wallet Watch for unlimited wallets, transaction and wallet Risk Scores for unlimited wallets and transactions, as well as Panic Button and Backup Wallet.
2. Webacy Rescue:️ One of the standout features of Webacy Ultra is Webacy Rescue. Designed exclusively for Ultra subscribers, this tool empowers you to recover assets in case of loss of access, loss of control, or other hacks which occur in the crypto space (ex. An Eth-drainer hack). Webacy Ultra users receive immediate, white-glove support from our network of security engineers, leveraging custom scripts, flashbots, and proprietary Webacy technology to recover your assets. This effort, if done in a timely fashion, can help recover assets locked in a wallet that has been compromised.
3. Estate and Inheritance: Managing a high net worth portfolio in the Web3 ecosystem can be complex. Webacy Ultra offers estate assistance through the Crypto Will to help you plan and secure the transfer of your assets to heirs or beneficiaries, ensuring your legacy remains intact. One of Webacy's experts will guide you through the process and support you every step of the way. Webacy's Crypto Will is the first of its kind in the market and has millions of dollars of assets that the smart contract has helped setup for generational wealth transfer, all in a decentralized fashion (no need for lawyers or middlemen).
4. A Personalized Support Team: Top tier crypto users require personalized support. Webacy Ultra provides you with a dedicated support team ready to assist you 24/7. Whether you have questions, concerns, or require urgent assistance, we'll have a dedicated Discord, Telegram, and even phone number.
Webacy Ultra is more than just the sum of its parts. It's a commitment to unparalleled security and support in the Web3 space. From regular security updates to exclusive access to events and forums, you'll be part of an exclusive community dedicated to safeguarding your assets.
The Importance of "Protecting Your Bags"
With the ever-evolving threats in the Web3 world, including hacking, phishing, and scams, protecting your bags isn't just a recommendation—it's a necessity. Webacy Ultra not only fortifies your security but also grants you peace of mind. Knowing that you have a personalized support team at your disposal and access to top-tier security tools can make all the difference in a world where every second counts. Webacy is backed by some of the best investors in the world (Mozilla Ventures, gmjp, Quantstamp, VaynerFund) and continues to serve tens of thousands of users with over $200mm worth of assets.
Get ultra secure with Webacy Ultra.