Welcome to Webacy 3.0: Built for DeFi Users (and all Digital Asset Holders) to Protect Their Wallets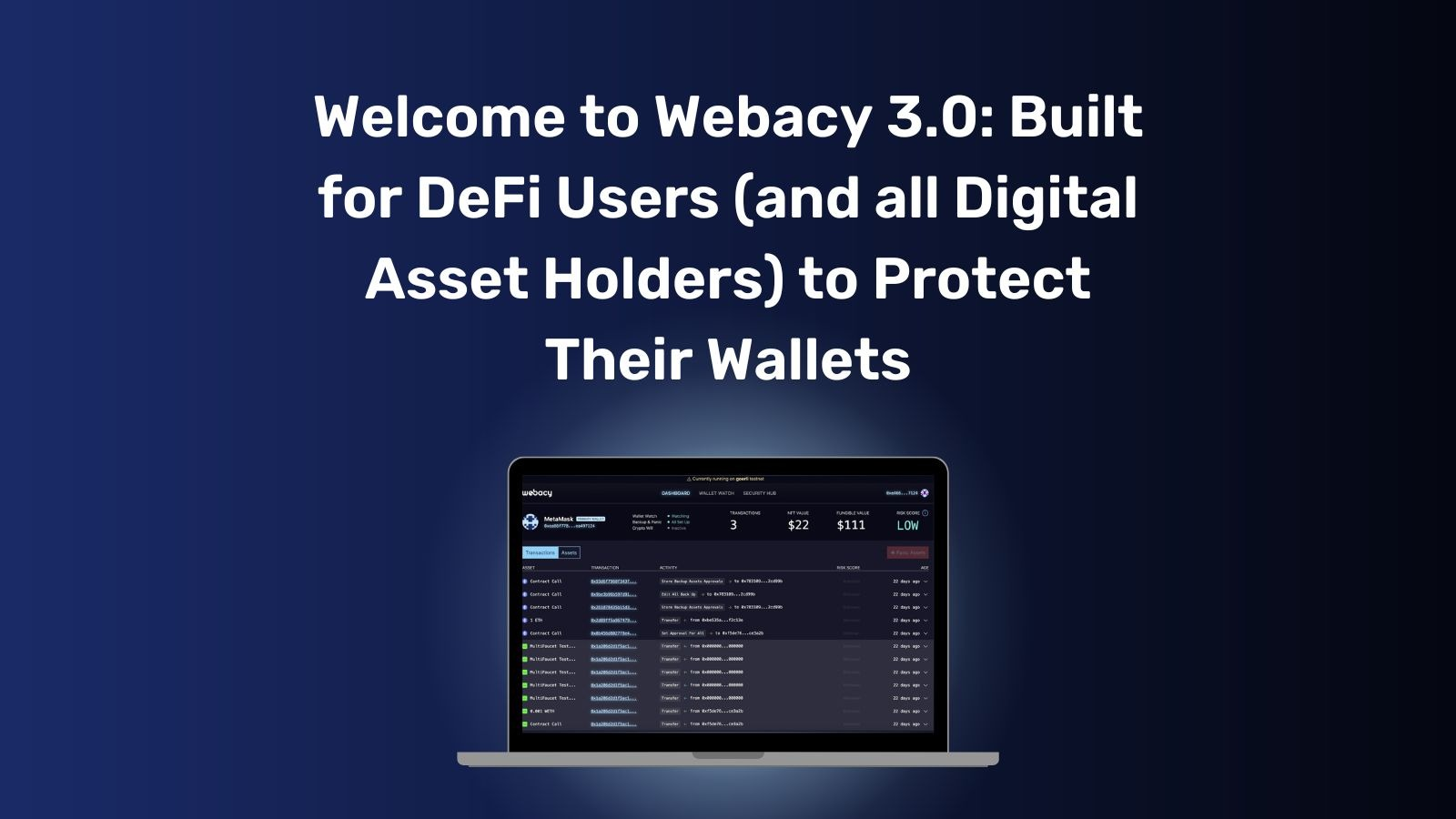 We've been busy building. Web3's most powerful safety tools to help assess, monitor, and act against threats and human error in Web3 transactions. The first version of Webacy was launched with our all-powerful Crypto Will.  We then upgraded our Safety Suite to include the Backup Wallet and Panic Button. We then announced our landmark $4mm financing with Mozilla Ventures, Vaynerfund, and more. Today we announce the launch of Webacy 3.0 - a full Web3 Safety Suite with Assess, Monitor, and Act - all in a beautiful and incredibly fast interface, friendly to DeFi.
Assess: With our ability to assess risk of potential compromises for a wallet, transaction, or platform, we've created a Risk Score that is integrated  across our products, and can be accessed standalone, all without connecting your wallet. When it comes to determining the risk that your wallet might be compromised, we take into account many signals. In short, a high risk wallet is a dangerous one, and it's best to start fresh.
Monitor: You've probably heard about our Wallet Watch feature. We soft-launched this to a small group earlier this year, and today we're announcing its full integration into the Safety Suite alongside regular Risk Score notifications. As a refresher, Wallet Watch is the world's fastest and most powerful alert engine for ETH transactions and approvals. You're notified when something hits the mempool so you can see everything going on across all your wallets (an unlimited amount). Never go a day without knowing.
Act: Our flagship feature is Panic Button & Backup Wallet. The Panic Button allows you to protect specific assets that can then be evacuated instantly to a safe house wallet with a single click. The Backup Wallet allows you to pull assets out of a wallet that you no longer have access to (lost keys, seed phrase, etc.). Webacy has build end-to-end protection mechanisms for your blockchain journey.
This is Webacy. We believe that a safety-first approach to web3 includes utilizing Webacy's safety products in conjunction with self-custodial wallets, and proper wallet hygiene, while preserving the decentralization dynamic that makes web3 so powerful and revolutionary. In short: bring your own wallets, and we help you create your own protection plan that you own and operate. We never take custody of any keys, never see your seed phrase, and never have any ability to take action within your wallet. Think of Webacy as the alarm system, seatbelt, helmet, airbag, for your digital assets. We're your Safety Suite.
Log in to the new Webacy dApp today.
Webacy's Future
As we grow, it's important that I share our growth goals and vision with you. Webacy's mission to be the safety and security layer for all digital assets goes beyond ETH. This means support for different blockchains. This also means more tools and features that we have in development to help you protect all of your assets all at once, even intercept existing transactions that have already been signed.
We also want to be clear: our tools are user friendly, but we have built Webacy's products and smart contracts (completely audited by Certik) to be enterprise ready. There are three ways we are interacting with our B2B products:
Co-offering: Webacy is a perfect set of tools for your users to stay protected. A compromised wallet and a compromised user is a potential issue for the product, user confidence, and other users. Webacy offers trial offerings and mass subscriptions to DAOs, Wallets, DEXs, Domain Services, and any other products that care about their users' safety.
Wallet Watch for Company Wallets: Webacy's Wallet Watch is perfect for companies that need to keep an eye on signing and treasury wallets. Risk Score is also integrated here, so you'll be able to identify and replace wallets that are of high risk.
Integration: Webacy's Risk Score is now integrated into over 10 dApps. Products can display the risk level of wallets connected into them, as well as wallets that are about to be transacted with.
These are just some of the ways we are expanding and working with other companies to grow the Safety Movement.
Let's be safer together.
Maika