NFT Market Insights Snapshot: 2022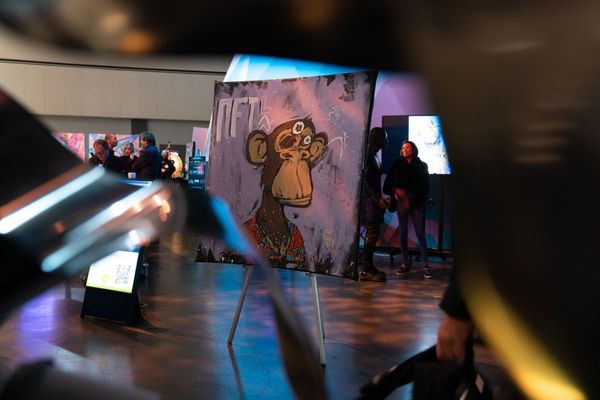 The growth of the NFT market over the past few years has been immense, expanding by more than 200% in 2020 alone. As of 2021, the NFT market reached a size of $4.36 billion (USD) and is expected to reach a value of $19.57 billion by 2028.
With this enormous growth, it's becoming more and more essential for NFT investors and enthusiasts to pay attention to the top trends in the market currently.
On April 8th, 2021, Twitter user @0xKofi — an NFT data analyst and partner with the cryptocurrency-focused investment firm 1confirmation — posted a detailed thread of the top 6 trends to watch based on NFT market data.
In this article, we are examining these top 6 trends in the NFT market, including the potential implications they have for the future of the NFT industry. From demographics to web traffic statistics, we cover many crucial data points all NFT enthusiasts should know.
Keep reading to learn about the trends currently dominating the NFT market!
1. Twitter is the Best Platform for NFT Marketing
When it comes to marketing NFTs through social media platforms, Twitter is the best platform by an astounding margin. On average, Twitter accounts for roughly 75% of the total social media traffic market share for NFTs. YouTube comes in second but, at less than 25%, it is much lower comparatively.
In terms of why NFT marketing performs better on Twitter than on other social media platforms, one of the biggest reasons is that Twitter is the first platform to embrace NFTs in an official and large-scale way.
A major change Twitter made to its platform in early 2022 was enabling integrations that allow Twitter users to set NFTs as their profile pictures. This is accomplished by connecting a crypto wallet to a Twitter account to confirm the user owns and holds an NFT, thus allowing them to showcase their ownership directly on their Twitter profile.
Additionally, Twitter launched its own NFTs — 140 total to pay homage to Twitter's original character limit — in June of 2021. These NFTs were not made available for sale but instead given away to 140 lucky Twitter users who replied to the Tweets.
As a result of Twitter's increasing friendliness towards NFTs and NFT creators and its real-time nature, the platform has grown to be the major social hub for the NFT industry.
2. OpenSea Attracts the Most Web Traffic at 140 Million Visits per Month
Though there are more than 240 NFT marketplaces to choose between, only a few experience notably high volumes of web traffic.
OpenSea leads the pack, with 140 million unique monthly visits, followed by MagicEden at 46 million. The next three — Gem, LooksRare, and x2y2 — have considerably fewer unique monthly visitors at less than 20 million each.
However, although x2y2 has the lowest visitation of these five marketplaces, it accounts for 36% of all weekly NFT trading volume. This is likely due to the fact that investors can purchase NFTs from x2y2 via aggregators, such as Gem, rather than trading on x2y2 directly.
As for why OpenSea sits in the number one position, the marketplace has several advantages that make it more widely accessible to investors, including:
Low fees and no gas fees (gas fees are blockchain transaction fees and are largely considered one of the biggest barriers to entry to the NFT market and industry)
200+ payment options
One of the largest varieties of NFT collectibles to choose from
Largely recognizable brand
3. Young Men are the Largest Demographic on NFT Marketplaces
Although more and more people are gaining interest in NFTs, there are some clear demographic trends currently seen in the industry — specifically in terms of gender.
Men vastly outnumber women on NFT marketplaces. For instance, on OpenSea, the user base is 70.17% male and just 29.83% female. Similar numbers can be found on LooksRare, which is made of 69.26% male users. The largest percentage of female users can be found on Gem, where 33.66% of the user base is made up of women.
In addition to the NFT industry being male-dominated, it is also a young space. The largest age group on any NFT platform is 25-to-34-year-olds, followed closely by 18-to-24-year-olds.
These demographics certainly make sense in the context of the larger crypto and blockchain industries. According to CNBC, nearly two times as many men use cryptocurrency as compared to women, with similar disparities occurring in various other investment markets as well (stock trading, mutual funds, real estate, etc.).
Despite women being in the minority in blockchain-related industries, many efforts are being made to empower women to become more involved. For example, the organizations Global Women in Blockchain (GWB) and Women in Blockchain (WiB) both strive to diversify the crypto ecosystems and get more women involved in all parts of the industry. There are also a few women-led NFT projects that have gained immense popularity including World of Women, and others.
4. Mobile Accessibility Drives Web Traffic on NFT Marketplaces
Being a tech-centric industry, many NFT marketplaces place heavy emphasis on digital accessibility, especially when it comes to mobile devices.
The marketplaces that optimize and enable mobile use see much higher web traffic rates overall. For example, OpenSea — the largest and most popular NFT marketplace — receives 45.7% of all of its web traffic from mobile devices.
Though correlation does not equal causation, this trend does indicate a growing demand for mobile accessibility. This data suggests that marketplaces that allow users to buy, sell, and create NFTs on their mobile devices (and on the go) have a much higher likelihood of achieving success and popularity.
Of course, there are risks that come with storing NFTs on a software-based wallet on your mobile device. Unlike hardware wallets, which are physical devices stored in secure locations, mobile wallets can be at greater risk for hacks and other cybercrimes if investors are not careful.
The key to keeping your digital assets safe is to research your wallet options and follow a good set of best practices for managing cryptocurrencies and NFTs.
5. The U.S. is the Largest Audience Base for NFTs So Far
As far as who is buying, selling, and creating NFTs, the U.S. takes the cake at 19.6% of the total global web traffic share, followed by Canada (4.12%), the U.K. (3.91%), Turkey (3.46%), and India (3.33%).
The popularity of NFTs amongst U.S. citizens likely has to do with many of the NFT trailblazers and marketplaces having American origins. OpenSea, for example, is a U.S.-based marketplace headquartered in New York City. Additionally, some of the biggest NFT creators — like Beeple, who famously sold an NFT for $69.3 million (USD) — are American artists.
Despite being the largest audience base, the U.S. still has a long way to go in making NFTs a mainstream commodity. A 2022 report from Pew Research reveals that although nearly half of U.S. adults have heard about NFTs, only 2% have actually purchased one.
This research further reveals that NFTs are most popular with people in upper-income classes. Interestingly, the largest group who have purchased an NFT are U.S. women aged 18 to 29 — 58% of this group have heard of NFTs and, of this percentage, 7% have made a purchase.
6. DeFi is Dwarfed by NFTs in Web Traffic
Though sometimes grouped together, there is a differentiation between DeFi and NFTs.
DeFi refers to any financial instrument — blockchain-based or otherwise (but mostly synonymous with blockchain-based assets) — that eliminates the use of centralized intermediaries like exchanges or banks. On the other hand, NFTs are a specific type of technology that tokenizes both physical and digital assets.
While DeFi is still making the climb towards mainstream popularity, NFTs have pulled far ahead.
A good example of this can be seen by comparing the NFT marketplace OpenSea to the DeFi platform Uniswap. OpenSea has 10 times the monthly users compared to Uniswap. Furthermore, OpenSea has far more unique wallets trading on its platform compared to Uniswap.
DeFi is ultimately a large umbrella for many different services, financial instruments, technology, and more. However, though the vast amount of wealth and money movement still falls in DeFi, the much larger web traffic on NFT marketplaces shows the potential of NFTs and their ability to catch up. Will NFT traffic and potentially higher volume ever catch up to DeFi?
Final Thoughts: The Room for Growth in the NFT Space is Immense
Overall, the NFT industry is still in its early days, leaving plenty of room for growth.
As interest in NFTs continues to expand, the only direction to go is up — from tokenizing artwork and creating collectibles to venturing into utility NFTs that can serve as exclusive passes and memberships, the possibilities are limitless. The creative, ownership, and experiential value of NFTs brings something new to the table that overtakes traditional lending and trading activities (staking, earning, speculating, etc.).
For anyone interested in taking the leap into the NFT space, one of the most essential first steps is to do your research and make sure you have the proper tools and resources to keep your digital assets safe.
At Webacy, we provide a wide range of digital tools that serve this very purpose. Products like our backup wallet ensure you never lose access to your assets, while our crypto will and beneficiaries tools help you to secure the future of your assets long past your own lifetime.To get started with Webacy, check us out on Product Hunt or gain exclusive access to our full suite of tools through our access NFT, Grimmies.
…